AN ARMY OF ANGELS by PAMELA MARCANTEL
A Review by Mary Hutchings, an English librarian from Somerset England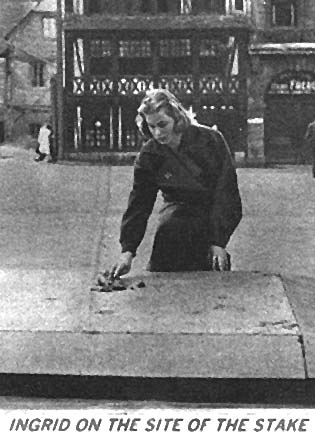 This hefty volume is advertised as a "novel of Joan of Arc" and it was in some hope of a good read that I approached it. I came to books about Jehanne not as a scholar of her life, but as a fan of Ingrid Bergman. It was only when I discovered how much Ingrid had loved Jehanne and had longed to portray her on the screen, that I decided she must be worth studying! Ingrid was to fulfil her ambition with enormous success in "Joan of Lorraine" on Broadway, then in her film "Joan of Arc" and later in the oratorio "Joan of Arc at the Stake". My first encounter with the saint was a biography I picked up in my school library in 1960 - I think it was by Vita Sackville-West. I used the information I gained from that to write an essay under exam conditions for compulsory "General Scripture", when I was still at school doing A Levels. Thank you, Ingrid! Few people took this essay seriously - but I did and actually managed to get B+ for it - our Scripture mistress set very high standards!
So, well over thirty years later, I looked forward to Ms Marcantel's new novel on Jehanne. It starts out well, with descriptions of Jehanne's early life in Domremy and, as it is a novel, plenty of dialogue. I was able to imagine the village and the countryside - and to me this is a test of a good novel. Of course, as I am a fan of Ingrid, I "heard" her voice in everything Jehanne said and I imagined her - though Jehanne is described as being dark-haired and somewhat stocky - as being like Ingrid in her film "Joan of Arc", in appearance. If this book is YOUR first encounter with Jehanne you will find plenty of detail throughout every part of Jehanne's story, but I warn readers that it IS a long read.
I found the historical detail almost too much in places, especially in the descriptions of the battle for Orleans and in Jehanne's trial. These have been written about in detail by scholars, such as Regine Pernoud, and I felt that the flow of literature, which one expects in a novel, was lost in these descriptions. It was as if Ms Marcantel felt she had to include every detail which she had researched, simply for the sake of it; excellent in a work of scholarship, but tedious in a novel.
But I have to say that the atmosphere of the Middle Ages was reproduced graphically - I could almost "smell" the stench of the village Jehanne and her friends passed through, after it had been pillaged by the "Skinners" - we were spared no grisly detail and that is how it should be. Throughout the novel this true atmosphere was maintained and I praise the author for her integrity here. The horror and the gore of battlefields, both during and after the battles, are all here, and rightly so.
If anyone has heard about the description of gang rape near the end - don't look for sensationalism. It is only half a page and was, I felt, unnecessary for the story. In her author's note [at the end of the book] Ms Marcantel endeavours to explain the scene she depicted, by stating that there is circumstantial evidence that Jehanne was assaulted and may have been raped, but academics may go on discussing this - we really don't need it, and many of those how love Jehanne as a virgin saint, are upset by such suggestions.
Whatever my reservations about some aspects of this book, I have to recommend it. I was deeply moved by the lengthy description of Jehanne's final morning and her actual burning at the stake and feel that the author redeemed herself in this final section.
Mary Hutchings
March 1999
---

Go up one level
---
Virginia Frohlick
stjoan@nmia.com