Jehanne la Pucelle
A mini-biography
(Joan the Maid, commonly called Joan of Arc in English)
Compiled from many sources by Steven R. Kanehl
Part 2
January 1429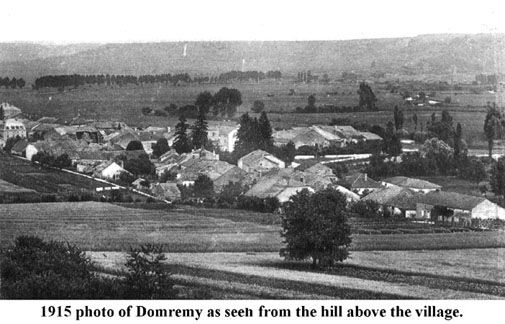 Jehanne's voices are now vehemently urging her to go to Baudricourt to get an escort into France. Jehanne goes to visit her Uncle Durand Lassois and wife at Burey to help the family with the birth of their child. However, she was really using this a springboard to get to Vacaulleors and see Robert Baudricourt. Off she goes in her patched red dress with hardly so much as a "goodbye" to her family and friends, for fear that she would give away the secret of her true mission and somehow be prevented from carrying it out. How hard it must have been to leave her good friends, especially Hauviette, Mengette, Colin and Michael! So close was she to Hauviette that she dared not say good-bye at all, perhaps for fear of an emotional outburst. Hauviette would testify that she wept bitterly on learning of her departure, because she loved Jeanne greatly for her goodness, and because she had been her friend.
Michael is the only one of two people that Jehanne even gave a hint to of her impending great mission from God. Michael testified at the rehabilitation trial that Jehanne told her about a year before she left that a maid would soon save France and lead Charles to be crowned king. A Burgundian was also told were he not a Burgundian she would tell him an amazing tale.
At her trial she was questioned extensively about her "secret" leaving as evidence of disobedience to her parents. She answered that since God commanded, it was right to do so. She added that since God commanded, if she had had a hundred parents, or had been the king's daughter, she would have gone nevertheless. Asked whether she asked her voices if she should tell her father and mother of her going, she answered that as for her father and mother, the voices were well pleased that she should tell them, but for the difficulty they would have raised if she had done so; and as for herself, she would not have told them for anything. She said the voices left it to her to tell her father and mother, or be silent.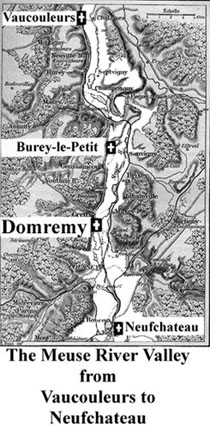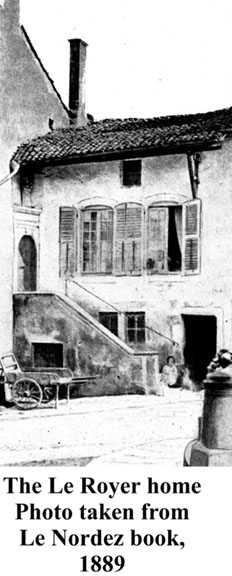 Jehanne is in Vaucouleurs and stays with Henri and Catherine Le Royer for approximately three weeks, but with intermittent trips elsewhere. Henri is a wheelwright. Jehanne and Catherine spend some of their time together spinning wool. Her uncle, Durand Lassois and his wife had their baby in January (date unknown) in Burey, a short distance away and no doubt Jehanne helped them. But her primary mission was to see Robert Baudricourt. Her voices tell her she will recognize him, even though she has never seen him before. How many times she ultimately saw him and on what dates is not known. It is possible she even saw him first in late January.
Jehanne tells Robert Baudricourt "The Kingdom of France is not the Dauphin's but my Lord's. But my Lord wills that the Dauphin shall be made King and have the Kingdom as a fief (in custody). The Dauphin shall be King despite his enemies, and I shall lead him to his anointing."

Early every morning Jehanne goes to the castle's chapel, called Our Lady of the Vaults. Jean le Fumeau, a young canon says, "I frequently saw Jehanne the Maid come to this church with great piety; there, she heard morning mass and stayed a long time afterward to pray. I saw her under the vault of this church kneeling before the statue of the blessed Virgin, with her face sometimes downcast and sometimes gazing upright."
Sometime in early February, Jehanne grows impatient of waiting for Baudricourt to send her on her way. So she decides to depart anyway. She discards her old red dress and dresses in some of Uncle Durand's male clothing for the trip. Durand and his friend, Jacques Alain, find her a horse at a nearby farm at Burniqueville, paying sixteen francs for it. Jehanne kneels in prayer at the chapel located on the property. Jehanne sets off accompanied by both Durand and Alain. She leaves via the Porte Saint-Thiebault in the late afternoon. As they approach the forest, Jehanne stops at a tiny chapel at a little hermitage of Saint-Nicholas-de-Septfonds. Jehanne prays before a virtual life-size oak statue of Christ (the statue still exists, missing only the left hand and the crown of thorns, at a museum in Vaucouleurs). This is a crucial moment in Jehanne's spiritual life. Will she trust God or seek to do things her way? While deep in prayer, she comes to realize that she is doing wrong be setting out on her own. She returns to Vaucouleurs and once more stays at the Le Royers' house.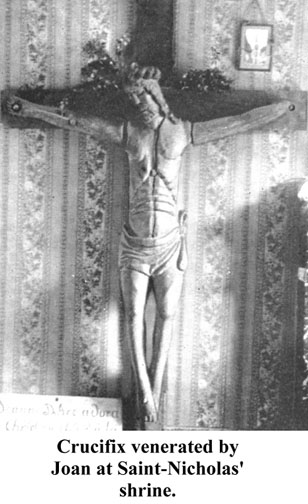 Soon thereafter, Jehanne meets Jean de Metz and Bertrand de Poulengy. Their hearts become inflamed by her words from God, and inspiring in them a divine love for her. Jean believed absolutely in Jehanne, whose words inspired him with a love of God equivalent to her own; he believed her to be sent by God, for she never swore, liked going to church, was in the habit of making the sign of the cross when taking an oath, and frequently took his money in order to give it away in charity. Bertrand adds that she was as good as were she a saint. These two would ultimately help escort her to Chinon.
Jean de Metz teases Jehanne when he first meets her near the military headquarters, "Honey, what are you doing here? Shouldn't the dauphin be thrown out and all of us become English?" Jehanne answers him calmly as always, "I came here to the king's chamber (that is royal territory) to speak to Robert Baudricourt so that he would either bring me or have me brought to the king, but he pays no attention to me or to my words; nevertheless, it is important that I be at the king's side before mid-Lent arrives, even if it means I have to walk until my feet are worn down to my knees; there is in fact no one else, neither a king nor a duke nor the daughter of Scotland (Charles was considering his son marry a royal Scot in order make a treaty – the Scots disliked the English and numerous Scots fought with the French), nor any other who can recover the kingdom of France, and he will have no help, if not through me, even though I would prefer to stay home and spin wool with my poor mother, for this is not my proper station, but I must go and I must do it, because my Lord wills that I do." Jean asks her, "But who is your Lord?" Jehanne answers "God". Jean de Metz replies "And so I promised the Maid, by placing my hands in hers as a sign of good faith, that I would with God's aid lead her to the king; and I begged her to tell me when she wanted to leave; she said "Better today than tomorrow, better tomorrow than later." Jean asks her if she expects to depart in her red dress. Jehanne answers she prefers to wear men's clothing. He outfits her from his servant's clothes of hose, a jacket and a hat. The citizens of Vaucouleurs eventually specifically make for her men's suits and hose.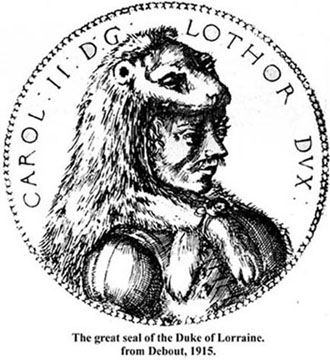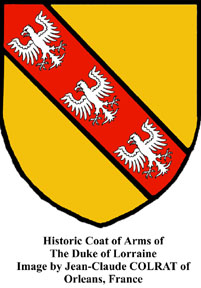 Jehanne goes to Nancy, a short distance away, at the request of the Duke of Lorraine (who was avowedly attached to the Anglo-Burgundian party). He had contracted a venereal disease as a result of a long affair with Allison Dumay (a vegetable-seller), by which he had five children. He had heard of Jehanne and her mission from God and thought perhaps that she could help him recover his health. She tells him she wants to go into France. She says she knows nothing about his health, but that if he would give her his son (probably son-in-law, Rene d'Anjou, the young Duke of Bar) and some men to conduct her into France, that she will pray to God for his health. He does not do this, but does give her four francs to cover her expenses (which she gives to her Uncle Durand) and a black horse. She further warns the Duke that he must abandon his evil life and return to his virtuous spouse, or he will never be cured. Jehanne returns to Vaucouleurs after visiting shrines at Saint-Nicholas-du-Port.
A strange visit, indeed. The Duke of Lorraine, although reprimanded by the peasant Jehanne, and although himself aligned with her enemies, gives her a horse, which may help her accomplish her mission. The 21-year old Duke of Bar (the son-in-law) eventually aligns himself with King Charles VII on August 3, 1429.
The Duke of Lorraine dies in 1431 and the townspeople take revenge on the poor Allison Dumay. They seize her, take away all the possessions the Duke had given her, parade her through the streets of Nancy while pelting her with human excrement, and then secretly put her to death.
Also in the early part of February the breech of promise action is possibly heard at Toul. Jehanne is sued an unknown young man on the supposition that she promised to marry him. Jehanne's voices tell her she will win the case. Likely Jehanne's parents have helped arrange a potential marriage, but Jehanne says she never promised. The court believes her and dismisses the case. The exact date of this trial is not known; some suppose it took place in the summer of 1428. It seems possible, that in 1428, with Jehanne now 16 years ago, and certainly within age to be married, that her parents, alarmed by her first visit to Vaucouleurs in May 1428 to declare her heavenly mission, seek to get her married as soon as possible. If this were the case, it would seem unlikely the potential husband would have sued Jehanne so quickly as for the date to be in 1428. He likely would have waited, and then having seen her leave for Vaucouleurs, seek to get her back by this lawsuit.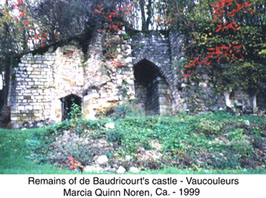 Saturday, the 12th

– The battle of Rouvray, also known as the "Battle of the Herrings" takes place outside of Orleans. The English are transporting herrings to their troops to eat during Lent. The French attack them. The English set up defensive positions and the attack fails miserably, resulting in a major English victory. One historical document records that Jehanne knew from her voices the day of this major French defeat and informs Robert Baudricourt, and urges him more strongly to send her on her way to Chinon. Baudricourt does not hear official news of the defeat until several days later.

Baudricourt has already dispatched a messenger to Chinon (date unknown) to inform Charles of Jehanne's claims. Something creates a sense of urgency in Baudricourt, I believe it is Jehanne's foreknowledge of the defeat. Baudricourt brings Jean Fournier, a priest, to the Le Royer home to visit Jehanne, to see if she is a witch. Jehanne falls to her knees to greet the priest and passes the test. Baudricourt is now convinced and apparently also receives word back from Chinon that Jehanne may be sent to Charles. Jehanne later tells Catherine that the parish priest had already heard her confession and knew perfectly well that she was a good Christian and did not need to perform any exorcism.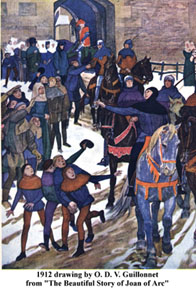 Wednesday, the 23rd

– Jehanne leaves for Chinon in the late afternoon from the Porte de France gate to start the 350-mile journey to Chinon. She is accompanied by Jean de Metz, Bertrand Poulengy, their two servants, Julian and Jean de Honnecourt, Richard the Archer, and the royal messenger Colet de Vienne. The harsh winter has left many rivers flooded and much of the way will be through English-held territory. They must cross six rivers. The moon is on the wane, hampering them, as they must often travel at night. Baudricourt gives her a sword. The citizens of Vaucouleurs provide a horse worth about 16 francs. (It is not known what happened to the horse provided by the Duke of Lorraine; perhaps the horse was unfit for the long journey or the citizens of Vaucoulers did not want their Pucelle sent on such a divine mission on a horse provided by a Burgundian supporter). Jehanne tells Henri Le Royer "I do not fear their soldiers, my way lies open. If there are soldiers on the road, I have my Lord with me, who will make a road for me to reach the Dauphin. I was born for this (purpose)."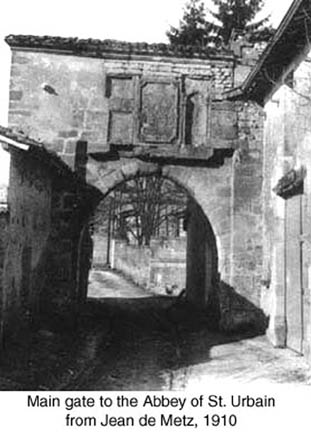 Thursday, the 24th

– The party arrives at dawn at the Abbey at St. Urbain and are greeted by the Abbot Arnould d'Aulnoy, a kinsman of Robert Baudricourt. The Abbey was recognized as a kind of sanctuary, a safe-haven, since 1132. After leaving St. Urbain, they travel past Clairvaux and Pothieres.

During the trip Jehanne will say, "If only we could hear Mass, all would be well." They hear Mass only twice on the 11-day journey. During the trip the men will sometimes tease her (or perhaps to test her), by pretending to run away fearing an attack or pretend to be on the English side. Jehanne is calm as always, "Do not run away. By God's name, they will do you no harm."

Jean de Metz would say, "At night during the journey, Bertrand, myself and la Pucelle, we lay side by side, la Pucelle next to me, with her upper and nether garments closely shut; I felt such respect for her that I would never have dared to make her an unseemly proposal, and I declare under oath that I never felt an evil desire towards her, nor was aware of any sensual thought." Bertrand adds, "I was young then, nevertheless I felt no desire for women nor stirring of the flesh; and I would never have dared to make her an evil proposal, by reason of the virtue I divined in her."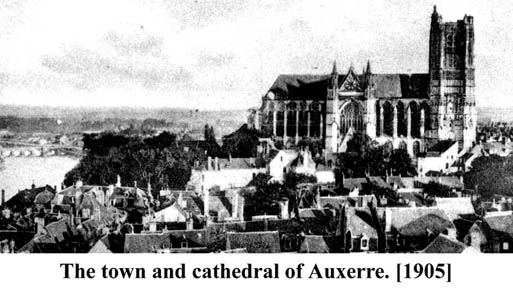 Sunday, the 27th

– They hear Mass at the great cathedral of Auxerre with its magnificently jeweled windows. After leaving Auxerre, they travel past Mezilles, Viglian and La Ferte.

Tuesday, the 1st

– Jehanne and her party travel past Gien. They are now safely out of territory controlled by the English.

There are two conflicting testimonies at the nullification trial from people claiming they heard stories from French soldiers that an ambush had been set for Jehanne along the way. The story and possible motive are unclear. Perhaps people in the Charles' court already hostile to Jehanne's mission sent them to stop her, perhaps to hold her for ransom, or perhaps even to test her. However, apparently upon seeing the group and attempting to set upon them, they are frozen in place, unable to move. Jehanne and her party pass by, unaware of their existence. Jehanne will later testify that they reached Chinon without incident.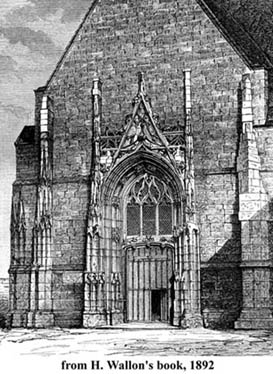 Friday, the 4th

- They are at Sainte-Catherine-de-Fierbois. Jehanne writes a letter to Charles asking him to receive her, stating that she has traveled 150 leagues (about 330 miles) to come to his help, that she knows a great many things for his good, and that she will be able to recognize him among many others. Jehanne worships God before the statue of Saint Catherine and hears Mass three times (it is said that this statue is remarkably similar in appearance to the one Jehanne would have seen of Mother Mary at Bermont). Jehanne testifies at her trial that she wrote to her parents to ask their forgiveness for leaving without a word. Some speculate that she wrote this letter (which has not survived) sometime in early March.

Sunday, the 6th

- The group arrives at Chinon at noon. Jehanne takes up lodging in a hostelry.

During the next two days, Charles sends counselors to question Jehanne. They bring back a divided opinion. Some say she is mad, others say to at least hear her out. Charles receives a letter from Baudricourt, and this may have tipped the scales in Jehanne's favor.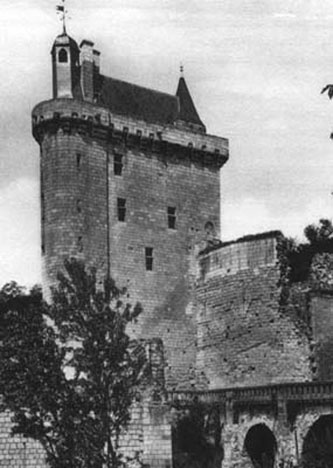 Wednesday, the 9th

– Jehanne is allowed to see Charles in the late afternoon. She makes her way up a steep hill, across the main drawbridge, and passes under the Tour de I'Horledge, to reach the Chateau de Milieu, where the audience will be held. As she is about to enter the castle, a man on horseback draws rein to stare at her and to say "Jarnidieu (an oath taking God's name in vain)! Is that not the Pucelle? If I could have her for one night, I would not return her in like condition." Jehanne hears these words and sensing he is really attacking God, to whom she is devoted, says "Ha! In God's name, you deny Him, and you so near to your death!" Within an hour, he has fallen into the moat and drowns! Only eternity will reveal if he heeded Jehanne's warning and repented of his sin before God.

Jehanne enters the Grande Salle, a room 70 feet long by 25 feet wide with a vast hooded fireplace at one end, three large windows overlooking the gardens of the inner court, and one smaller window overlooking the town and the river. Jehanne is introduced by Comte de Vendome. There are perhaps 300 people in the hall and 50 torches. (Jehanne would say at her trial that there was also spiritual light). Charles attempts to fool her and dresses less elegantly than most of the people there. Jehanne nevertheless goes straight toward him, drops a curtsey, and says, "Gentle Dauphin. I am Jehanne la Pucelle. The King of Heaven sends me to you with the message that you shall be anointed and crowned in the city of Reims, and that you shall be the lieutenant of the King of Heaven, who is the King of France." Charles responds "It is not I who am the King, Jehanne. There is the King" pointing to one of his lords. Jehanne is not taken in. "In God's name, noble prince, it is you and none other."

They turn aside for a private conversation. It is not known what is said. Jehanne would never reveal it, even at the trial. Some say that Jehanne knows the contents of a prayer Charles had made on All Saints Day (November 1, 1428). Supposedly Charles had made three requests of God, and although he told no one, not even his priest, Jehanne reveals what they were to him.

Whatever is revealed, Charles returns to the group and all notice his changed appearance. His face appears irradiated by joy, but that it looked also as though the Holy Spirit had visited him. Still, Charles is a cautious man, and will soon have Jehanne sent to Poitiers to be examined by the priests.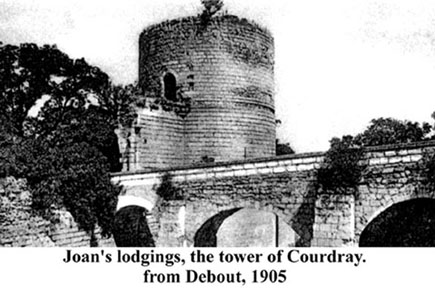 Jehanne is provided quarters at the castle in the Tour du Coudray. She is assigned a page, Louis de Contes, also known at Minguet. She has a chapel attached to the tower, where she frequently goes to pray, sometimes observed to be in tears, during the coming weeks. She is subjected to a medical examination of sorts by Madame de Treves and Madame de Gaucourt to determine that she is indeed a woman and a virgin.
During this time also, the Bastard of Orleans, having heard about her mission before she even arrived at Chinon, dispatches some messengers to check her out for himself.