A mini-biography
(Joan the Maid, commonly called Joan of Arc in English)
Compiled from many sources by Steven R. Kanehl
Part 8
June 1430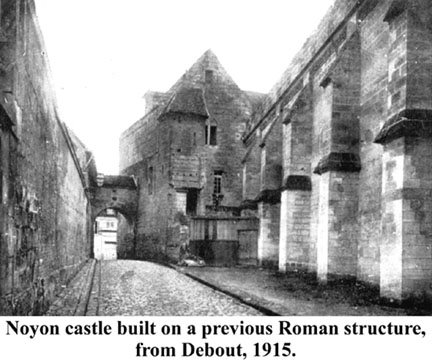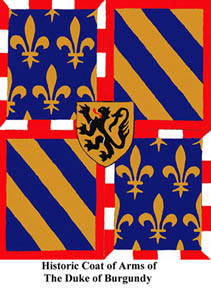 The 6th–Philip the Good (duke of Burgundy) arrives at Noyon with his wife, Isabelle of Portugal. Jehanne is brought into their presence in the elegant setting of the episcopal palace near the cathedral. Jean of Luxembourg and his wife, Jeanne of Bethune, are also there. There is no account of their meeting. Some scholars believe that the duchess Isabelle is sympathetic to Jehanne. She arranges for her to be transferred to a more suitable residence for such a renowned prisoner, the castle of Beaurevoir, which will take place probably in early July.

Sometime this month Jehanne attempts an escape. She says, "I was in the castle and I shut my guard in the tower; if only the porter had not seen me and stopped me!"

The 22nd

– The University of Paris again writes to the duke of Burgundy that he deliver the prisoner into its jurisdiction. This time the University is represented by the Bishop of Beauvais, Pierre Cauchon. Cauchon is in exile as Beauvais had gone over to the French side and exiled Cauchon, who was known to heavily support the English.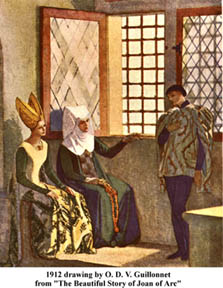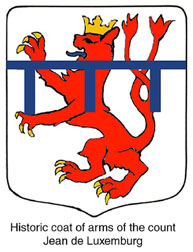 Jehanne remains imprisoned at Beaurevoir. Jehanne receives rather kindly treatment, especially from three women. These were Jeanne de Luxembourg, (the aged aunt of Jean Duke of Luxembourg- who is holding Jehanne prisoner), Jeanne de Bethune, his wife and Jeanne de Bar, his stepdaughter. They try to persuade Jehanne to wear a woman's dress without success. Jehanne knows that the aunt implores the Duke not to sell her to the English.
August 1430
Jehanne remains imprisoned at Beaurevoir. Nothing else is known.
September 1430
Jehanne remains imprisoned at Beaurevoir. Nothing else is known.
Jehanne is held prisoner at the castle of Beaurevoir. She has been there since mid-July.
Jehanne also receives a visit from Aimond de Macy, a Burgundian knight. He admits "I tried several times, playing with her, to touch her breasts, trying to place my hands on her chest, which Jehanne would not suffer, but pushed me away with all her strength."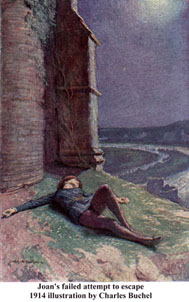 She attempts to escape by leaping off a tower, some 60 to 70 feet high. (It is not known what date this occurred. I suspect the attempt came later in her captivity rather than earlier; a September date is certainly possible). Jehanne's voices plead with her not to leap. Jehanne is beside herself with reports that the people of Compiegne, currently under siege, will all be slaughtered when the town is captured. The voices assure her the town will receive relief by St. Martin's Day (November 11th), which did eventually happen. Jehanne apparently was allowed to walk around the top of tower, the guards thinking it high enough to be secure. Jehanne commends herself to God's care and leaps in an escape attempt, both to go to the aide of Compiegne and to avoid being sold to the English. Miraculously, she suffers only a concussion and some bruises. There are no broken bones, and not even a sprained ankle. At her trial, Jehanne credits the angels with saving her life. The voices tell her she must ask forgiveness of this sin, which she does, and receives God's forgiveness.
All that remains of the tower of Beaurevoir are one tower and fragments of its walls.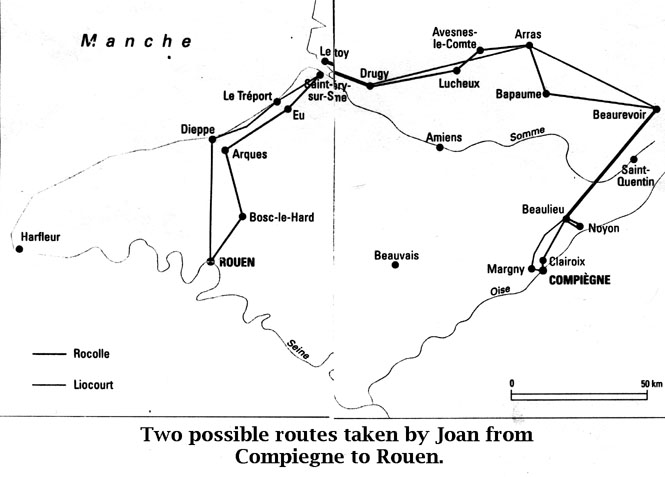 Approximately mid-November is sold to the English. That the transaction took over 5 months from when she was captured is somewhat surprising. Some attribute this to the ladies at Beaurevoir castle who tried to influence John of Luxembourg to not sell Jehanne. There are also some stories that King Charles tried within his power to forestall the sale. The English also seemed to have trouble raising the funds. It was raised by a tax imposed on the Duchy of Normandy in the amount of 80,000 pounds. This was converted into French currency of 10,000 livre tournois. Jehanne leaves Beaurevoir castle to begin her trek to Rouen. She travels to Arras, St. Riquier, Drugy and Le Crotoy (eventually arrives in Rouen on December 25th). While in Arras, Jehanne sees a painting of herself done by a Scotsman. She is dressed in full armor kneeling on one knee presenting a letter to the King.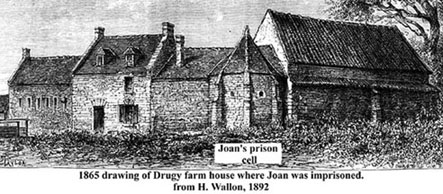 While at Drugy, the monks of the local abbey attend to her. While at Crotoy (on the mouth of the Somme), Jehanne sees the ocean (the English Channel), her first experience of seeing a large sea. The castle at Crotoy was the very one her good duke (d'Alencon) had been incarcerated for five years by the English after the battle of Verneuil. However, whereas d'Alencon was imprisoned with hopes of being ransomed, Jehanne by now knows that no ransom for her will be forth coming. At Crotoy she receives the ladies of Abbeville, who come to marvel. Jehanne graciously receives them and after a brief meeting, the ladies depart with tears in their eyes. While at Crotoy, Jehanne meets a fellow prisoner, Nicholas de Queuville, Chancellor of the Cathedral of Amiens. Jehanne is allowed to celebrate Mass with him, and he hears her confession.
Jehanne leaves Crotoy and goes across the river in a boat to Saint Valery. Most of the troops and supplies used to guard her cross the Somme by the bridge at Abbeville. She does not stay there long, but travels 15 miles to Eu. She probably follows the route of the ancient road through Arques and Bosc-le-Hard. Some others say she went from Saint Valery to Le Treport to Dieppe. By whichever route, she is at last in Rouen, arriving on Christmas Eve, December 24th.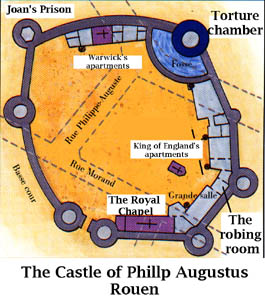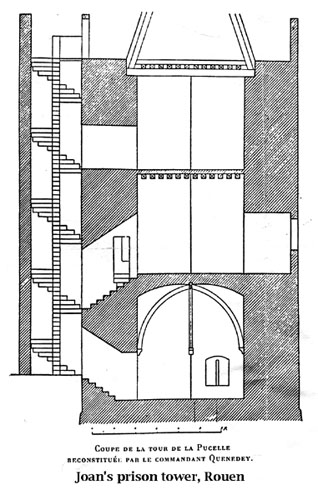 There is some controversy over what her conditions of imprisonment were like.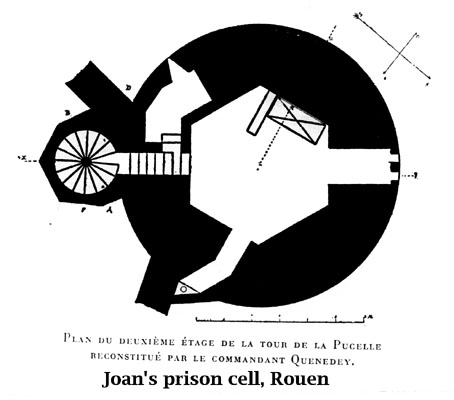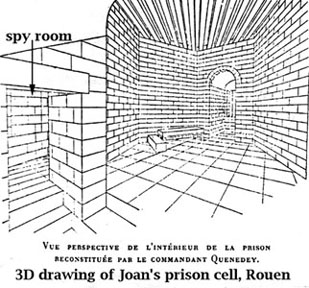 She is kept in irons and placed in a cell in the tower. The wall has a small slit for window. The cell is dark, but perhaps the air not too damp and cold with the rodents and vermin less plentiful (as would have likely been the case had she been imprisoned in the dungeon). She has an adjoining cell that is used as a latrine.

The most gruesome thought to consider is whether Jehanne is kept chained standing by the neck, hands and feet in an iron cage prior to the start of her trial. There is little doubt that the cage was built. It is difficult to ascertain with certainty if it was used. There is no eye witness testimony to her actually being in the cage. Jean Masseiu testifies that he heard from Etienne Casteille, the very locksmith that made the cage, that Jehanne was kept in it (of course, since the locksmith made the cage, he might be prejudiced in hoping his creation was put to use). One eyewitness, Pierre Cusquel, a simple workman of Rouen, twice talked quite openly and at length with Jehanne in her cell. Pierre was employed by Jean Son, the master mason of the prison. Pierre testifies to the leg irons being attached to the beam, but says he never saw her in the cage. Pierre did see the cage once, as it was being weighed in his house. Jehanne did complain at the trial of being kept in chains, but not of being in an iron cage.

Jean Massieu, who ushered between her cell and the trial, testifies that three of the five guards spent the night in her cell with the remaining two outside it at the door. History records the five guards as John Baroust (or Berwoit), Nicholas Bertin, Julian Flosquet (or Floquet), William Mouton and William Talbot. No doubt the guards spent much of their time mocking and insulting her. Massieu says "She slept with two pairs of irons on her legs, attached by a chain very tightly to another chain that was connected to the foot of her bed, itself anchored by a large piece of wood five or six feet long. The whole contraption was fastened by a key." In the leg irons, Jehanne needs assistance to walk from her cell to the judgment hall for the trial.

As part of a church trial, Jehanne should have been detained in the church prison guarded by women. Instead she is guarded as the prisoner-of-war she really was, kept in the castle tower, chained and guarded by soldiers. To try to cover us this sham, Cauchon gives one of the three keys to her prison cell to Cardinal Henry Beaufort, bishop of Winchester, who was to be present during the trial. Cauchon, a bishop and Jean d'Estivet, promoter-general, both clerics, hold the other keys.

The 3rd

– Jehanne is delivered to the Inquisition and Church by the English.

The 9th

– The trial begins. Jehanne is not present. There are ten preliminary sessions held between January 9th and February 21st, the first time Jehanne faces her enemies.

No later than the 13th

– Jehanne undergoes a medical exam of sorts supervised by Anne of Burgundy, duchess of Bedford. One of matrons examining her is Anne Bavon. Jehanne's virginity is duly attested. Quite likely Anne of Burgundy admonishes the guards to not molest her. Jehanne complains of several rape attempts. The Earl of Warwick reprimands the guards and replaces two of them.