The following newspaper article came from April 28th, 2004
La République du Centre
The City of Orléans' newspaper
Many THANKS to Mrs. Margaret Jeanne Walsh who so kindly did the English translation
---
Immense Canvas Representing
Joan of Arc Rediscovered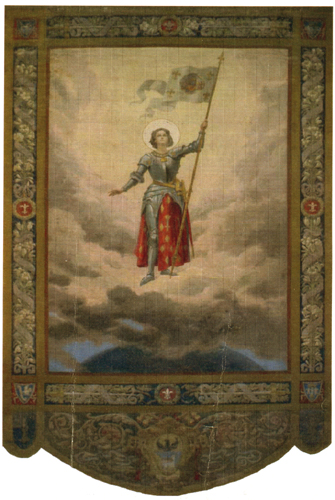 The work, probably from 1920, is hanging in the choir of the Cathedral.
Its restoration and preparations to show it to the best advantage are questions for the future.
Father Claude Girault, rector of the Cathedral of Orleans, discovered in a chest of old documents, a canvas painting for Joan of Arc's 1920 canonization. At least, that's what one supposes right now. There's no signature, which is typical of other such works from the Vatican which mark beatifications or canonizations, explains one cleric. The fact remains that, after having been hung probably in Saint Peter's in Rome the 20th of July, 1920, the immense canvas currently decorates the choir of the cathedral, before the altar, (and will remain there) for the rest of the Joan of Arc festivities, Father Girault cannot say enough about the diligence and efficiency of the city workers who installed the painting.
A photo of the canvas appears on the program for the 575th festivities, and a detail of the saint's portrait illustrates the program of the Mass of the 2nd of May.
With the rediscovery of this canvas, which reflects the tapestries of the past, the Church thus establishes an event. The work must not have been brought out since 1940 when, according to tradition, it would have been exhibited on the cathedral's exterior, next to another painting of the Archangel Michael.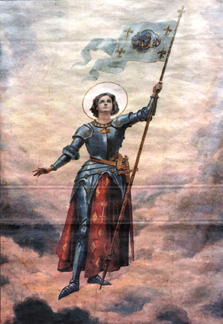 The 'exhumed' canvas represents a Joan in some nebulous place, carrying her standard and looking very determined.
Another treasure discovered in the diocese's heritage and which the people of Orleans will be able to admire for this 575th anniversary of the festivities: one dozen banners, the majority of which are embroidered in golden thread, representing Saint Catherine, Saint Margaret and, of course, Joan of Arc. The oldest dates back to 1855. There is also the authentic banner of Joan of Arc, which for a long time has been used during the festivities honing her.
(The banner being spoken about in the article is NOT Joan's actually battle standard - this was burned during the French Revolution - but was a modern creation utilized during the city's Saint Joan celebrations. 2001 was the last time this banner was used. Note by Virginia Frohlick)
These banners will also be presented in the Holy Cross cathedral after having been displayed in Our Lady of Miracles for the Mass of this Sunday, May 2nd, which was the site of the first celebrations of the festivities honoring Saint Joan.