Part V
The Tour of Vaucouleurs Continues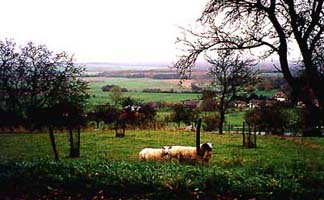 ---
You can see the two remaining towers that were once part of the town's protective wall. They were restored by the Archeologist, Henri Bataille, who has spent his entire professional life rebuilding the castle in Vaucouleurs. We owe him a great debt of thanks for his vision, skill and dedication to this massive project.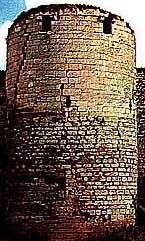 You can see the main entrance to de Baudricourt's castle and the entrance to his audience hall where Joan spoke to him.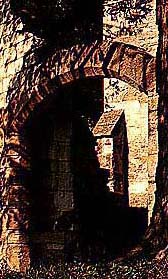 Here too is the famous "Gate of France," through which Joan rode on the evening of February 23, 1429, as she started her momentous journey to see the Dauphin Charles. According to Mr. Bataille, what we see of the gate today was rebuilt in 1792. In Joan's time, the structure had a watch tower that rose 60 feet above the gate.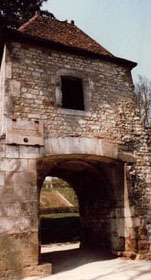 The crypt church of the castle is not open to the general public. To visit it you must get special permission from the Mayor of Vaucouleurs and then Ms. Marlet will accompanied you there as she has the keys to unlock the doors to the crypt. Once inside you will descend a long, steep and narrow flight of stairs. Turning right you pass through a narrow hall until you come to an fairly large open space. This is the crypt chapel of Our Lady of the Vaults. It was here that Saint Joan prayed each day while she waited for de Baudricourt's permission to depart on her mission. Here too is the very statue of Our Lady which Joan venerated. What an honor it was for me to have been allowed into this sacred place.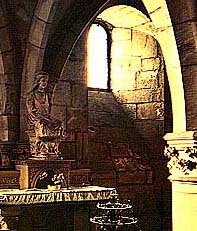 This photo was taken by Messier François JANVIER, who is the conservator of antiquities and art for the Department of the Meuse. This statue of Saint Joan, entitled Jeanne d'Arc was commissioned by the US Congress at the close of W.W.II. It was originally destined for the 'Congressional Hall of Heroes,' which is located in the basement of the congressional building, but when it came time to pay the sculptor, Maxime Real del Sarte, Congress refused to pay. It was purchased instead by the Department of the Meuse and was placed in the upper church of the Vaucouleurs castle, where it remains to this day. The upper church is closed to the general public but with special permission from the city it may be viewed.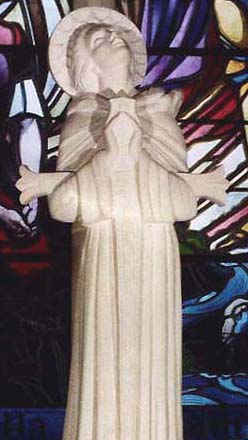 In the town proper you can visit the church of Saint Laurent, Joan also spent many hours of intense prayer here. Finally you can see the outside of Henri Royer's home where Joan stayed while she was in Vaucouleurs. Unfortunately, the home's facade has been changed drastically since Joan's time. The only thing that identifies its significance is a small statue of the Virgin and a plaque.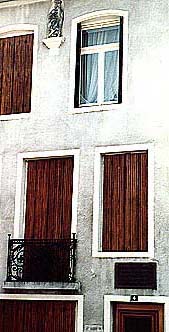 ---

Index

Previous Part
---
Virginia Frohlick-Saint Joan of Arc Center
stjoan@stjoan-center.com