Part IV
Tour of Vaucouleurs Museum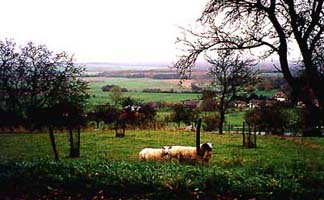 ---
Continuing north on route D164 you will come to a very small village called Burey-en-Vaux. Joan stayed with her 'uncle' Durand Laxart and his wife, helping her 'aunt' who was about to give birth. While there, she told Laxart about her God-given mission and convinced him to take her to Vaucouleurs so that she might meet with the local governor, Squire Robert de Baudricourt. The Laxart home still stands but the outside has changed greatly since Joan's time.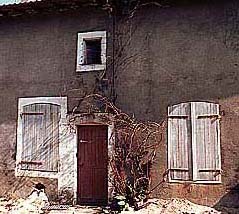 The town of Vaucouleurs is the last stop of the tour.
There are many interesting places to see. I recommend that you stop first at the town hall. You will recognize the building because there is a large statue of Saint Joan on horseback right in front.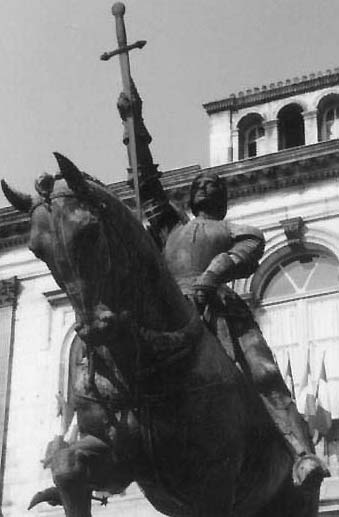 To the right of the statue you will see a large staircase. At the top of the stairs is the entrance to the Musee Johannique. This museum contains many interesting items. The museum is divided into four rooms. The first room contains the earliest known 'imaginative' pictures of Joan. (No one did a picture of Joan during her life time). It also holds the crucifix which Saint Joan venerated at the chapel of Septfonds.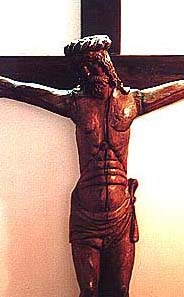 The second room contains layout drawings of some beautiful stained-glass windows of Saint Joan that are located through out France. The third room contains posters from plays and movies based on the life of Saint Joan. They have two posters of Sarah Bernhardt, because this actress had played 'Joan' many times in her long theatrical career.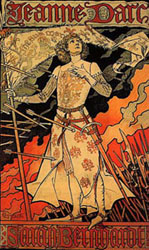 You will see a poster from the 1928 release of Dreyer's film "The Passion of Joan of Arc," as well as the poster from the 1948 Ingrid Bergman film "Joan of Arc."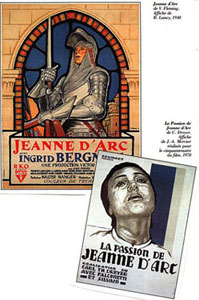 This room also contains many other interesting pictures, posters and statues. The last room contains many 'propaganda' items that were made during the First World War to encourage the fighting troops as well as the civilian population.
The curator of this museum is Nathalie Marlet. She is a very personable young lady and I appreciated her kindness and helpfulness. Nathalie speaks excellent English which is helpful for people like me who can't speak a word of French, and she went out of her way to answer all my questions. Ms. Marlet took the time to show me the remains of the de Baudricourt castle. Below is a model of the main portion of his castle during Joan's time. (Courtesy of the Joan of Arc Center, Orleans, France)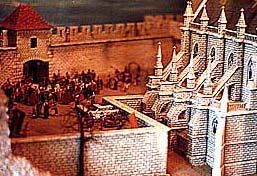 ---

Index

Previous Part

Next Part
---
Virginia Frohlick-Saint Joan of Arc Center
stjoan@stjoan-center.com