Part I - My Home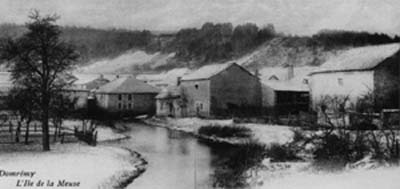 During the winter of 1908 my village of Domremy looked much as it did when I was born there.
---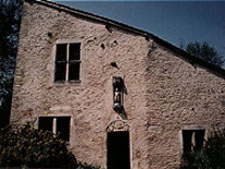 I was born here on January 6th, 1412. My parents were Jacques d' Arc and Isabelle Romee.
---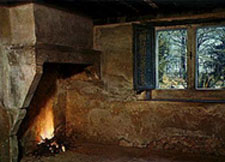 My family and I lived out our domestic lives here as the fire within its hearth gave us light and heat. We cooked our meals here and before its dancing flames we listened to the tales and horrors of the outside world.
---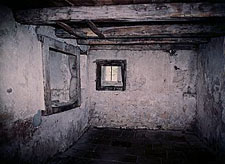 I shared this room with my sister, Catherine, until she married and left home. Looking out the small window I could easily see my village church of Saint Remy.
---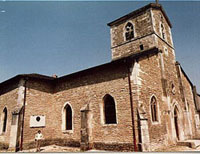 I was baptized in the church of St. Remy and attended Mass daily within its hallowed walls.
---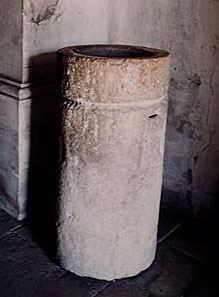 This holy water font was old even when I was a child. From the time I was a little girl and had to stand on my tip toes struggling to touch my fingers to its blessed waters until the day I left Domremy forever - I always dipped my hand there.
---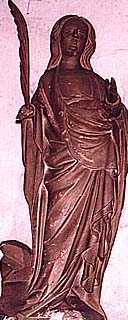 I lost count of all the times I knelt before this statue of Saint Margaret, asking her to intercede for me before the throne of God. I loved this crudely made statue. To me she was beautiful because it represented a Saint of God that I loved.
---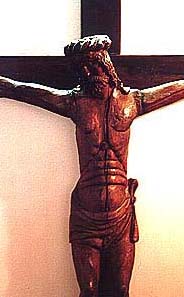 I prayed before this crucifix at the shrine of St Nicolas de Septfonds during the time I waited for de Baudricourt's permission to go to my Dauphin. It can been seen now in Vaucouleurs' town museum.
---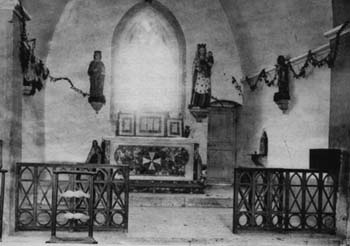 As soon as I was old enough, my sister and friends and I would climb the hill behind the neighboring village of Greux to reach this shrine of Our Lady of Bermont. Every Saturday we would make the pilgrimage there in order to pray before Our Lady's statue. This picture was taken in 1908. The shrine is in ruins now.
---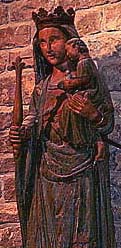 For love of the unseen Jesus and His mother I would venerate this statue, kissing the feet of the infant Jesus and His mother, Mary. This statue is now located in the crypt church of the Basilica that was built at Bois Chenu near my home.
---

Index

Next Part
---
This web page is being maintained by The St. Joan of Arc Center
stjoan@stjoan-center.com
---