Part III
Domremy's St. Joan of Arc Festival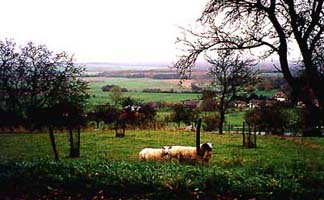 ---
On my last trip to France I had the privilege of meeting and speaking with the Mayor of Domremy, Messeur Daniel Coince. He told me that the village is building its own Joan of Arc center which will be opened to the public in May of 1998.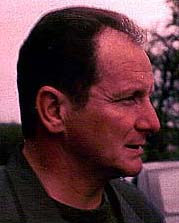 I found out that the village of Domremy has an annual Joan of Arc Festival. This festival, which combines both religious and civic components, was started twenty-five years ago and occurs on the second weekend (Saturday and Sunday) of May. It begins on Saturday evening with a religious procession from the Basilica of Saint Joan to the village in which the the people pray and sing hymns. Most of the villagers of Domremy take part in some way. Even the people of Vaucouleurs, 20 miles away, come in costume as soldiers and peasants.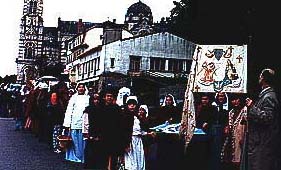 The next event is a play about Joan's life up to the point just prior to her leaving home. Many of the villagers participated in this production wearing period dress. I enjoyed the performance very much, even though I don't know French, because the actors and actresses were enthusiastic and there was a lot of spontaneous interaction between the audience and the performing cast.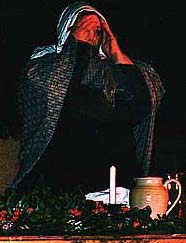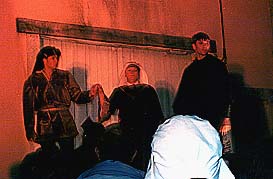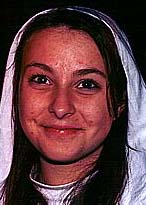 Charlotte GEHIN was the 1997 Joan of Arc for Domremy's Festival.
Afterward you can travel down the "old" village main street to sample the local food and wine and see the craftsmen working at their trades: smithies, wood carvers, log splitters etc. There is free entertainment. Three very good musicians play 15th century music on authentic replicas of medieval instruments. There's a jester who does a very good job of entertaining the children.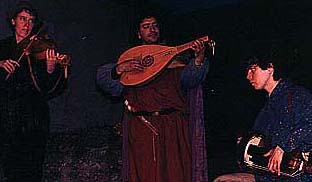 You will find it fascinating to watch the women doing 'the wash' in the village 'Laundromat.' The Laundromat is a room that has a small pool by which the women kneel to scrub the linen cloth on its sloping stone side. After this, they do 'the spin cycle' by twisting and twirling the cloth very tightly between them. The women must have strong legs, backs, arms and hands to do that kind of work!
---

Index

Previous Part

Next Part
---
Virginia Frohlick-Saint Joan of Arc Center
stjoan@stjoan-center.com